As I'm preparing for
Cocooning 3.0 in November
, I'm reminded of how crucial it is to have the skill to engage in courageous conversations.
I believe with my whole heart that this is a key element to success in life. 
Start With Yourself
The hardest place to start courageous conversations is with the ones they love, so start with knowing yourself, knowing your needs, and asking for what you need to feel safe to open up. 
"Stay devoted to the gift that is you." 
I shared this thought in my blog Make Love With Your Life, as I explored how and why we need to receive and give with grace as we playfully pursue our lives. I explained how the wisdom to know who we are is already within us, we just need to tap into it. More so, at times we need to be within our community where we are encouraged and feel safe to explore ourselves.
Where To Begin?
Start by asking whomever you will be opening up to, when is a good time for them. Ask this question to yourself, too, if you're embarking on a self-discovery journey.
One way to begin the conversation is by first saying you have something to open up about or that you would like to share something. Say this in a moment where both parties are in a calm and awake state.
Additionally, you can ask when would be a good time for the other person to be able to receive, listen and essentially hold the room. When I say hold the room, it means to not make it about them, just listen, which allows you and them to express.
Open up about how you feel and not how they made you feel. It's important to know when your feelings come up. Perhaps you'd be able to recognize them as feelings that have come up from your past history and patterns. It's helpful to know what you need to move forwards before the conversation. Or what you think you need and what past event or pattern is limiting you.
How To Continue?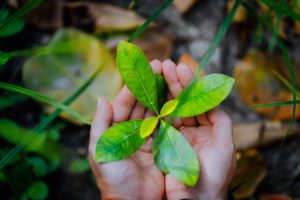 If you can both hold the room, allow each other to share your soft truths and hard truths. Open up about your feelings without taking each other's on. You will observe that we are all humans, living life through our own lenses. Without someone sharing what they are seeing, feeling, and wanting, it can be challenging to be a good partner to anyone.
I believe it is important for us to make the first courageous and vulnerable step to open up, and share our truths. A wholesome life is a life where you can be open and free to express your feelings in a conscious and loving way, and grow forward with the ones you love, yourself and your community.
Homecoming
Fall is here and with life shifting to a slower pace, we're reminded that the busy summer is over and we, too, can slow our pace and come back to ourselves. To feel calm, clear and steady as we head into the fall and winter months.
My Cocooning events are an offering for men and women to come together and come back home to our sacred home inside. To remember who we are and feel what it feels like to be in and of us. My ambition and intention for this event is to create an opportunity for each participant to land into the present moment with a felt sense of calm contentment.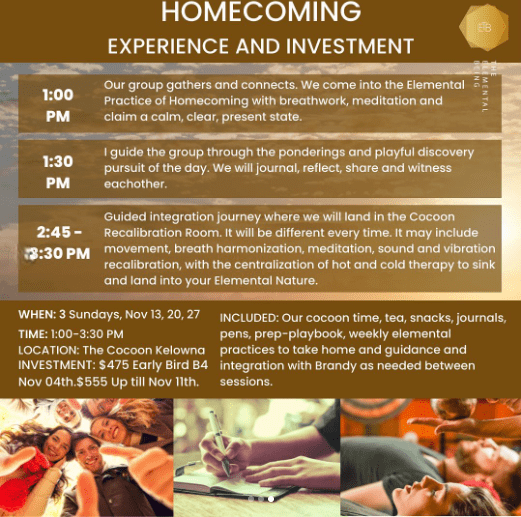 Playful pursuing and pondering on inquiries together, journaling, sharing and witnessing are some of the effective ways I've found to explore our inner selves. And with the wisdom and elemental practices I've acquired over the years, I can tailor my knowledge to each unique cocooning group and guide them through an integration journey. The integration journey for my November Homecoming event will be movement, breath harmonization, meditation, sound and vibration recalibration and hot and cold hydrotherapy.
I chose to call this event "Homecoming" because when we are finished with this series we will feel a sense of being at home in our body, a new sense of who we are, and an appreciation for what possibilities lie ahead.
We will be able to claim the statement with an inhale and an exhale,  "I AM HOME."
I'd Love For You To Join Me
Would you like to join me for my Cocooning 3.0 Homecoming event?
There is a beautiful opportunity to land in a circle with men and women. To create a safe and whole container together while we discover more about ourselves. I love my brotherhood and sisterhood and it's beautiful to unite them and witness each other.
I have hosted many gatherings and everyone that unites here at the cocoon has a sense of, "I was meant to be here, with these beings." Gratitude always sets in as they walk into and away from our experiences.
If you'd like to start a courageous conversation with yourself at home, or in preparation for the Cocooning event, I've created a free worksheet you can download and print to guide you through The Elemental Practice Of Homecoming. If you have a journal, or any other place/space where you keep your thoughts, you might want to add this worksheet to your ponderings and reflect back to it as you grow and evolve.
Find your worksheet here: The Elemental Practice of Homecoming.
For more inspiration and tips, follow The Elemental Being on Instagram.
I love you and am grateful to be journeying alongside you, Brandy